What's New
第24回日韓薬理学合同セミナー(24th JKJSP)開催のご案内
2022.08.29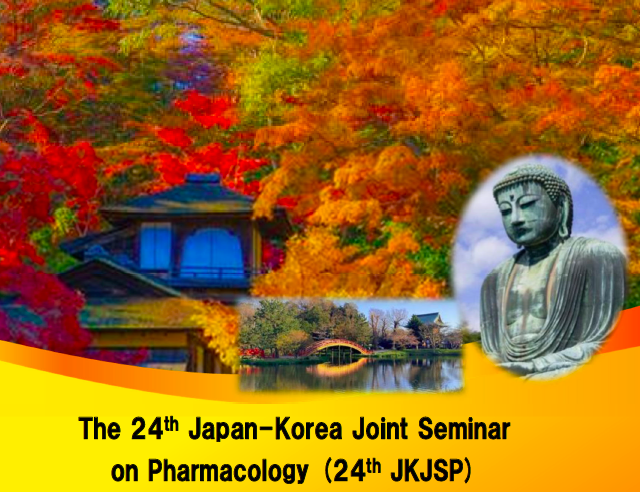 Welcome to The 24th Japan-Korea Joint Seminar on Pharmacology
(Japan-Korea Joint Session of the 96th Annual Meeting of the Japanese Pharmacological Society)
INVITATION
Dear Colleagues,
It is our great privilege to invite you to participate in the 24th Japan-Korea Joint Seminar on Pharmacology which will be held in Yokohama on December 2nd, 2022 as a whole day session of the 96th Annual Meeting of Japanese Pharmacological Society (November 30 -December 3rd, 2022).
This will provide an outstanding opportunity for basic scientists to exchange the latest and most exciting knowledge in Pharmacology.
The Organizing Committee will do everything possible to ensure that those attending will be provided with an excellent scientific program which includes most recent developments in basic pharmacology. There will be invited lectures, oral presentations, and poster sessions as well as social events. The participants are also welcomed to attend the sessions of annual meeting.
We would urge you to actively support the congress by submitting abstracts on your most recent studies to the 22nd Japan-Korea Joint Symposium on Pharmacology.
We look forward to your active participation and to welcoming you to Yokohama on December 2nd, 2022.
Naohiko ANZAI
Congress Chair
Program
2 December (Fri) Room 6 (4th floor)
● Opening address 10:00-10:10
Yoshikatsu Kanai (Osaka University, Japan)
Kyung-Soo NAM (Dongguk University, Korea)
Chairs:
Sang-Hyun KIM (Kyungpook National University, Korea)
Yuhei Nishimura (Mie University, Japan)
● Special lecture 1 10:10-11:10
Unconventional Protein Secretion as a Target for New Drug Development
 Min Goo Lee (Department of Pharmacology, Yonsei University College of Medicine, Korea)
● Special lecture 2 11:10-12:10
mGluR5 as a switch for astrocyte-mediated synapse remodeling
 Shuichi Koizumi (Department of Neuropharmacology, Interdisciplinary Graduate School of Medicine, University of Yamanashi, Japan)
● Lunch 12:10-13:20
●Poster session 13:20-14:00
Discussants:
Chul-Hwan LEE (Seoul National University, Korea)
Shogo Tokuyama (Kobe Gakuin University, Japan)
Chairs:
InKyeom KIM (Kyungpook National University, Korea) Hiroshi Nomura (Nagoya City University, Japan)
● Oral Presentation 1 14:00-14:23
Roles of circular RNAs in cardiovascular diseases
 Hyun Kook (Department of Pharmacology, Chonnam National University Medical School, Korea)
● Oral Presentation 2 14:23-14:46
Control of monoaminergic system by leucine-rich repeat transmembrane proteins in health and disease
 Jun Aruga (Department of Medical Pharmacology, Nagasaki University Institute of Biomedical Sciences, Japan)
● Oral Presentation 3 14:46-15:09
Role of thioredoxin interacting protein in vascular calcification
 Chang-Hoon Woo (Department of Pharmacology, Yeungnam University College of Medicine, Korea)
● Oral Presentation 4 15:09-15:32
Gender aspects in cardiovascular pharmacology
 Junko Kurokawa (Department of Bio-informational Pharmacology, University of Shizuoka Faculty of Pharmaceutical Sciences, Japan
● Coffee break 15:32-15:42
Chairs:
Hyun KOOK (Chonnam National University, Korea)
Kimihito Tashima (Josai International University, Japan)
● Oral Presentation 5 15:42-16:05
Portable cold atmospheric plasma patch-mediated skin anti-inflammatory therapy
 Sang-Hyun Kim (Department of Pharmacology, School of Medicine, Kyungpook National University, Korea)
● Oral Presentation 6 16:05-16:28
Mechanical stimulus to periodontal ligaments regulates neurite outgrowth through Wnt5a production
 Minoru Wakamori (Division of Molecular Pharmacology and Cell Biophysics, Department of Disease Management Dentistry, Graduate School of Dentistry, Tohoku University, Japan)
● Oral Presentation 7 16:28-16:43
Development of anticancer metabolic technology by glucose and pH regulation
 So Won Kim (Department of Pharmacology, Asan Medical Center, University of Ulsan College of Medicine, Korea)
● Oral Presentation 8 16:43-16:58
Open up the next generation pharmacology with scRNA-seq technology ~ elucidation of the role of PGE2-EP2/4 pathway in cancer immunity as an example~
 Dean Thumkeo (Department of Drug Discovery Medicine, Kyoto University Graduate School of Medicine, Japan)
● Coffee break 16:58-17:08
Chairs
Yun Hee SHON (Kyungpook National University, Korea) Toshiaki Kume (Toyama University, Japan)
● Oral Presentation 9 17:08-17:23
An understanding of heterochromatin regulation during cardiomyocyte differentiation for heart regeneration
 Chul-Hwan Lee (Department of Pharmacology, College of Medicine, Seoul National University, Korea)
● Oral Presentation 10 17:23-17:38
The role of protein arginine methyltransferase 5 in cardiac fibrosis
 Yasufumi Katanasaka (Division of Molecular Medicine, School of Pharmaceutical Sciences, University of Shizuoka, Shizuoka, Japan)
● Oral Presentation 11 17:38-17:53
Human brain organoids recapitulating pathogenesis of Parkinson's disease
 Junghyun Jo (Department of Pharmacology, Ajou University School of Medicine, Korea)
● Oral Presentation 12 17:53-18:08
Role of astrocytes in building tumor microenvironment around metastatic brain tumors
 Hiromi Sato (Clinical Pharmacology and Pharmacometrics, Chiba University
Graduate School of Pharmaceutical Sciences, Japan)
● Closing address 18:08-18:15
Naohiko Anzai (Chiba University, Japan)
KP-1: Genistein inhibits platelet activation and clot retraction by regulating granule release through the PI3K/Akt pathway
 Kyung-Soo Nam (Department of Pharmacology, College of Medicine, Dongguk University, Korea)
KP-2: Polarity of T helper cells determines salt-sensitivity and development of hypertension
 Jee Young Kim (Department of Pharmacology, School of Medicine, Kyungpook National University, Korea)
KP-3: Dahl salt-resistant rats are protected against angiotensin II-induced hypertension
 Cheong-Wun Kim (Department of Pharmacology, School of Medicine, Kyungpook National University, Korea)
KP-4: Inhibitory Potential of Natural Minerals on Adipogenesis of 3T3-L1 Adipocytes
 Yun Hee Shon (Bio-Medical Research Institute, Kyungpook National University Hospital, Korea)
JP-1: Characterization of pathological remodeling in the chronic atrioventricular block monkey heart
 Hiroko Izumi-Nakaseko (Department of Pharmacology, Faculty of Medicine, Toho University, Japan)
JP-2: Japanese Kampo formula Daikenchuto inhibit gastric acid secretion through activation of TRPV1 in conscious mice
 Kimihito Tashima (Laboratory of Pharmacology, Faculty of Pharmaceutical Sciences, Josai International University, Japan)
JP-3: Development of SARS-CoV-2 infection model using human iPSC-derived cardiomyocytes
 Ayano Satsuka (Division of pharmacology, National Institute of Health and Science, Japan)
JP-4: Nicotine suppresses central post-stroke pain through activation of orexinergic neuron
 Kazuo Nakamoto (Department of Clinical Pharmacy, School of Pharmaceutical Sciences, Kobe Gakuin University, Japan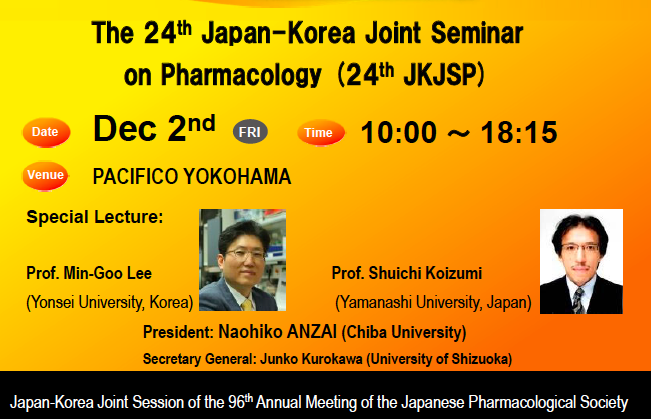 ・Invitation to JKJSP (PDF)
・Overview (PDF)
・Flyer (PDF) 11.24 Update
・Program (PDF) 11.18 Update
・Registration fee and lodging (PDF)
・Meeting registration (Word & PDF)
・Hotel Registration (Word & PDF)
Please send the meeting & hotel registration form to the following address:
jps96nenkai@gmail.com